View Listings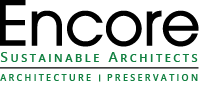 Encore Sustainable Architects
Architectural History, Architecture & Planning, Development, Energy & Efficiency, Real Estate
Encore Sustainable Architects is a boutique architecture design firm specializing historic preservation, adaptive reuse and sustainability. Our team is led by veteran architect W. Ward Bucher, AIA, APT and consists of experienced architects, preservationists and sustainable designers with advanced degrees, licenses and certifications. Among our architecture services, we provide Historic Restoration, Sustainable, Housing, Commercial and Institutional design. We also have core competencies in government approvals, historic and sustainability documentation, and construction administration services.

We specialize in existing and historic buildings. From design, to tax credits, to green certifications, we believe good design is holistic and must be sustainable from top to bottom. We offer numerous sustainable design services to cater to new, existing, and historic structures. Whether you're looking to lower operating costs on an existing building or design a new benchmark project and get LEED certification, we can help you every step of the way.

Find out how we can help with your next project.